Hey, where did the time go? It's already three months into the new year and we hope you nomads have been stepping out of your comfort zone. If you haven't yet, that's fine! There's nine more months to go and we've got the perfect dose of inspiration for you right now.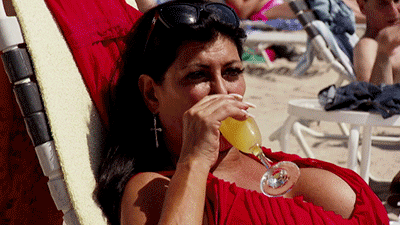 You've heard it before: celebrities are humans too, just like us. And just like us, they love to travel. Barely a quarter of the year has passed and we've already seen some of our favorite personalities flying out! Whether it's walking through the romantic cobblestone streets of Milan or riding in an old-school Cadillac in Mexico, they sure know how to live it up. Take a cue from any one of these stars and let them inspire you to finally BOOK THAT TRIP!
Julia Barretto in Mexico
Who ~hasn't~ heard or seen pics of Julia Barretto's trip to Mexico? Posing effortlessly by the Suytun Cenote (a beautiful reservoir in the Yucatan Peninsula featuring gorgeous limestone stalactites), in front of awe-inspiring ancient Mayan architecture, and even at one of Pablo Escobar's abandoned mansions (Casa Malca, FYI) Julia Barretto has, unsurprisingly, caught our attention. More than the vintage Cadillacs and bare-midriff clothing, Julia has mostly inspired us with her sense of adventure. Come on guys, it's 2019. Time to stop living vicariously through Julia's IG photos and finally book a trip to that far-flung locale you've always thought of going to but never had the guts to go for.
Shay Mitchell in Palawan
We love an island girl at heart and Shay Mitchell is definitely one of those. She's not only an avid traveler, she's also a certified beach babe. On her recent tour to Manila with Penn Badgely to promote the Netflix show You, Shay Mitchell found herself doing all sorts of Filipino things: eating halo-halo, posing next to jeeps, and visiting what she calls "the islands" a.k.a. Palawan. Looking like a total babe in a low-cut, maroon swimsuit, Shay gamely poses in her canoe as it floats along the pristine waters of El Nido's gorgeous beaches. Now ~that's~ what you call a vacation.

Check out her super vogue shots taken in Tokyo during sakura season as well! You'll wish you were her instead. 😉
DJ Tony Toni in Boracay
Another shoutout to the local travel industry: our very own caveman, DJ Tony Toni, recently went on a beach trip to Boracay. Check out his IG to see gorgeous sea-green waters, beautifully designed villas, and those ever-present palm trees swaying in the breeze. But that wasn't the only thing on his agenda. He also flew to Hong Kong and posed by the Discovery Bay Lock Love Promenade, a bridge brightly decorated with hearts and metal locks.
Selena Gomez in Cabo San Lucas
2018 was a pretty tough year for for Selena Gomez. Amidst her busy schedule as a multi-hyphenate, she's also had to deal with things like Justin Bieber's wedding ~and~ a kidney transplant. This was why we were so excited to see her out and about celebrating her best friend's bachelorette party on the shores of Cabo San Lucas. Not to mention she's looking healthy, glowing, and crazy thicc in her white two-piece. 2019 is definitely gonna be her year.
Haley Dasovich in Aruba
Haley Dasovich has always been an adventurous girl, that much we know. But lately, we're not sure if even ~we~ can keep up with her. She's literally been everywhere: from the snow-covered parks of Inawashiro, Japan, to the intricate archways of Tunisia, down to the golden sands of Aruba. Tell us where you can sign up for that kind of itinerary because we are so down for it!
Kelsey Merritt in the Bahamas
We know she's there for work but come on, Kelsey Merritt in the Bahamas? Perfect. This island girl has been on a roll lately heading out to beaches in Cabo San Lucas, Miami Beach, and Exuma. Well, we aren't surprised. She does look great in a bikini.
Zac Efron in Cabo San Lucas
If there's one thing we know about Zac Efron it's that he's a sportsman. You name it, he plays it: rock climbing, golf, even sandboarding! Would you be surprised that he started 2019 with yet another sporting adventure? This time surfing by the beaches of Cabo San Lucas (see a pattern here?) with his brother, Dylan Efron, and friend, Conor Dwyer (also Kelsey Merritt's beau). All this, after ending his year with a throwback to his sandboarding adventure in Peru. Can you say: gainz?

Do any of these celebs and influencers inspire you? Because they sure do inspire us! Book that trip while you're young and ready and we promise, wherever you go, you'll have a great time. 😉
Sean O'Pry in Aspen
You've seen Sean O'Pry in a Taylor Swift music video, on a Penshoppe ad, and even in Kelsey Merritt's IG stories. Now, check him out in Colorado! Earlier in February, the model, actor, and avid skiier hit the slopes in beautiful Aspen. Slide through his posts and catch a glimpse of the winter wonderland he was in: complete with classic evergreens, and snow-capped mountains. Sure beats having to deal with the humidity in Manila!

James and Nadine in Batangas
It's been three years since James and Nadine Lustre became an official thing, so of course they had to celebrate. This year, they headed out to Batangas for a relaxing island getaway. You can always count on James and Nadine to make a simple weekend outing look super sexy, and in swimwear no less. If this beautiful waterfall at "The Farm at San Benito" doesn't make you want to take a weekend roadtrip, we don't know what will.

Article cover courtesy of Artiom Vallat on Unsplash

Leave a comment