Traveling alone is a lot of things: scary, exciting, a true one-of-a-kind experience you ~have~ to have (at least once in your life!). What it isn't? Perfect. Don't get us wrong, we're not trying to discourage you from traveling solo, we're just here to tell you what to expect when you ~do~ decide to treat yourself to a solo voyage.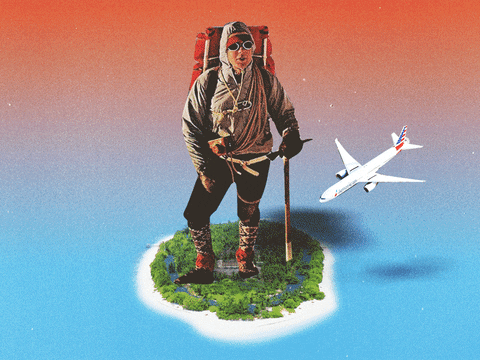 There are a lot of perks that come with flying solo. You do what you want, when you want. You go where the wind takes you and you think only of yourself. In a lot of ways, you put yourself first and in doing so, end up discovering things about yourself you never knew. But traveling solo also comes with its downside. If you've ever done it before, you know what we're talking about. If you haven't, well, we're here to tell you what to watch out for when you do decide to go on that solo adventure.
"No one is taking my pictures"
Kinda shallow, but in the age of Instagram, this actually matters a lot to most people. Traveling alone means no one is there to capture cute candid moments of you swimming in Palawan or having brunch at a streetside cafe in France. The plus side is that you can always ask help from a friendly local or fellow tourist! The key is to simply ask politely and respect their time if they say no. Most people are usually down to snap a quick photo, and who knows? You might even make a new friend! After all, what's a better ice breaker than that?
Bro tip: Invest in a tripod or a selfie stick if you're the type of traveler who's all about that #ContentLyf but also on an individual adventure.
"I can't get drunk"
In other words, you have to look out for yourself. Traveling alone is fun because it gives you all the freedom to do whatever you want, whenever you want. But just don't forget to stay safe. Take extra precautions when going to bars or clubs, don't drink too much, and be alert. It may not come off as your wildest night out, but hey, better safe than sorry right?
Bro tip: You can always drink at your Airbnb! Or if you're staying at a youth hostel, invite other guests to have a chillnuman with you. If you really want to go out, then simply plan ahead. Consider the location of your accommodations to the local bar scene: the closer it is, the better.
"I have no one to share memories with"

You will likely have a lot of great memories when you come back from your travels. Unfortunately though, no one will really understand it the way you do. The ones you have will be unique and while you can tell your best friend or your bro about that funny incident at the bar or that interesting conversation you had with a stranger, it's not likely that it will be as special to them as they are to you. But don't worry! Even if they weren't there, those stories will always be a great anecdote or icebreaker for you to reminisce on at your next party or social gathering.
Bro tip: Actively share your adventures on your social media. People will live vicariously through you and it's a great topic to bring up next time you see your friends IRL.
"It can get lonely sometimes"
I'm speaking completely from my own experience. When my best friend flew out from Hawaii to LA, leaving me to fend for myself in Honolulu, I felt like I was drowning. After the initial excitement wears off, traveling alone, especially when you haven't planned your itinerary very well, can actually be kind of lonely. The upside is that this pushes you to make friends with unlikely people; in my case, it was my Airbnb host. Great conversations also came from the Japanese bartender of a cafe I ate in, as well as an elderly Vietnamese carpenter who seemed so kilig when I came up and told him that his dog (a giant Saint Bernard) was really cute.

Traveling alone can really push you to be creative with your travel activities and it opens up a lot of doors for you to discover what you like and dislike. If you step up to the challenge that comes with planning a solo itinerary, there's a pretty big chance you won't even feel lonely!
Bro tip: Book your accommodations at a youth hostel or at an Airbnb with a friendly host. There are bound to be tons of other solo travelers on the lookout for adventure buddies. If all else fails, download apps like Bumble or Tinder. (We don't judge!) They're a great way to pass the time and meet both locals and tourists at your destination.
"No one is pushing me to step out of my comfort zone"
The great thing about traveling with friends is that it pushes you to compromise and opens you up to other people's interests. When you're traveling alone, you might tend to focus on just what you want, which isn't a bad thing in itself, but it could mean that you're sticking to your own comfort zone. Sometimes we need our ride or die to pump us up for our next adventure (or stupid decision). Of course, this isn't entirely true for everyone as sometimes, being with a companion can also limit you. As long as you focus on making the best out your time spent elsewhere, we know you'll still end up having a blast even while you're on your own!
Bro tip: Plan your itinerary! Book tours in advance, map your routes, and find addresses of places you want to go to. Having it all planned out will give you that extra push to commit to what you want to do.
Have you experienced traveling alone? Tell us what your favorite (and least favorite!) part of it is! Happy adventuring, solo flyers!
Artworks by Chloe King
Leave a comment